Home

法國五月藝術節 HKS 獨奏會系列:利比爾鋼琴獨奏會 J S Bach & Beyond – A Well-Tempered Conversation
法國五月藝術節 HKS 獨奏會系列:利比爾鋼琴獨奏會 J S Bach & Beyond – A Well-Tempered Conversation
鋼琴 利比爾 Julien Libeer

日期及時間:2023年6月14日 (星期三) 8pm

地點:香港大會堂音樂廳

票價:$450, $320, $180 立即購票

節目
巴赫
C大調第一前奏曲與賦格曲,BWV846 *
貝多芬
C小調鋼琴小品,WoO 52
巴赫
降A大調第17前奏曲與賦格曲,BWV862 *
蕭邦
升C小調馬祖卡舞曲,作品50之3
巴赫
A大調第19前奏曲與賦格曲,BWV864 *
利蓋蒂
《音樂探索》鋼琴曲集:第一首
巴赫
降B大調第21前奏曲與賦格曲,BWV866 *
巴赫
B大調第23前奏曲與賦格曲,BWV868 *
荀伯格
六首鋼琴小品,作品19
巴赫
G大調第五法國組曲,BWV816
拉威爾
《庫普蘭之墓》
* 選自《平均律鍵盤曲集》第一冊
由紅遍歐洲的鋼琴界超新星利比爾悉心策劃,發起一場以巴赫《平均律鍵盤曲集》第一冊作為基調的對話。貝多芬、蕭邦、利蓋蒂、荀伯格及拉威爾的鋼琴瑰寶將出現於這道鏡中之鏡,帶領觀眾探索玄妙而細膩的音樂軌跡,沉醉於充滿思緒的琴音之中。
藝術家: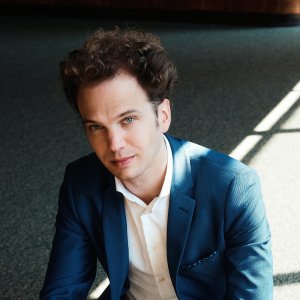 利比爾 (鋼琴)
Born in 1987 near Brussels, Belgium, Julien Libeer's earliest musical memory was the famous documentary on the recording of West Side Story by Leonard Bernstein. The piano, which he took up at age six, quickly became the faithful companion for expressing a love of music that thrives as much on opera, orchestra, and chamber music as on the piano repertoire.
For five decisive years, French-Polish pedagogue Jean Fassina was the patient, demanding, wise teacher that any aspiring musician should have the chance to encounter. This experience was followed by the equally intense collaboration with Maria João Pires at the Queen Elisabeth Music Chapel, whose advice and support strongly influenced Julien's views over the last few years.
Julien has performed at the Barbican Hall (London), Auditorio Nacional (Madrid), Palau de la Musica (Barcelona), Elbphilharmonie (Hamburg), and is a regular guest of the Palais des Beaux-Arts (Brussels) and Concertgebouw Amsterdam. In addition, other tours have taken him to Japan (Tokyo, Sumida Tryphony Hall), Lebanon (Beirut Chants festival), Turkey (Ankara Music Festival) and the US (Miami International Piano Festival). He is an artist in residence at Flagey.
He has performed with the Deutsche Kammerphilharmonie Bremen, Brussels Philharmonic, Belgian National Orchestra, Antwerp Symphony Orchestra, Sinfonia Varsovia and New Japan Philharmonic; under conductors including Trevor Pinnock, Jun Märkl, Michel Tabachnik, Augustin Dumay, Hervé Niquet, Joshua Weilerstein and Enrique Mazzola. His dedication to the works of Dinu Lipatti have resulted in warm collaborations with the Bucarest Radio Orchestra, among others.
An accomplished chamber musician, he works on a regular basis with Augustin Dumay, Camille Thomas, Frank Braley, Maria João Pires and Lorenzo Gatto, with whom he has performed the complete Beethoven violin sonatas over several seasons (at venues including Wigmore Hall, Louvre and the Concertgebouw Amsterdam).
Highlights of last seasons have included invitations of the Concertgebouw (Amsterdam), Wigmore Hall, Flagey (Brussels) and the Steinway International Concert Series (Cardiff). He was a guest at the Enescu Festival, the Beirut Chants Festival, the Miami International Piano Festival and has performed chamber music concerts at De Doelen (Rotterdam), the Palais des Beaux-Arts (Charleroi) and the Théâtre des Abesses (Paris).
Other recent highlights include the completion of Julien's complete Beethoven Violin Sonatas recording with Lorenzo Gatto (Alpha Classics), which won the Diapason d'or de l'Année 2016; his debut concerto album featuring Lipatti's Concertino for piano and orchestra and Mozart's Piano Concerto No. 27 in B-flat major, KV 595 (Les Métamorphoses Orchestra and conductor Raphaël Feye, on Evil Penguin Records). In addition, he was the recipient of an Echo Klassik Award in 2017 for his album with cellist Camille Thomas. Julien has then moved on to sign with Harmonia Mundi International, releasing an adventurous Bach –Bartók in 2020, followed in 2022 by A Well-tempered Conversation, a conceptual take on Bach's iconic Well-Tempered Keyboard.
Julien Libeer has studied with Daniel Blumenthal (Royal Conservatory of Brussels), Jean Fassina (Paris) and Maria João Pires, and is an associate artist of the Queen Elisabeth Music Chapel, where he also specialized in chamber music with the members of the Artemis Quartet. Furthermore, he has received the advice of Dmitry Bashkirov, Alfred Brendel, Nelson Delle Vigne-Fabbri, Jura Margulis and Gerhard Schulz (Alban Berg Quartet).
Beyond concertizing, Julien is driven to initiate or collaborate in projects which are rooted in the idea that music, far beyond its esthetic value, can be a force of change for anyone willing to listen. Amongst these projects was Julien hosting a Belgian TV series, that made a case for musical storytelling. He furthermore hosts the Salon Libeer concert series at the Bruges Concertgebouw, in which he joins a fellow musician and a speaker (e.g. philosopher, historian, author), as well as the lecture series Dead or Alive, a philosophical exploration of the shifts in classical music making (in collaboration with LUCA School of Arts and the Catholic University of Leuven.
As the artistic director of the Singing Molenbeek project, he supervises high level choir rehearsals in the primary schools of a Brussels suburb famous for all kinds of wrong reasons. It is Julien's hope that introducing these children to music, with all its demands and rewards, will help them grow personally and socially.
(Visited 49 times, 1 visits today)
About The Author
You might be interested in